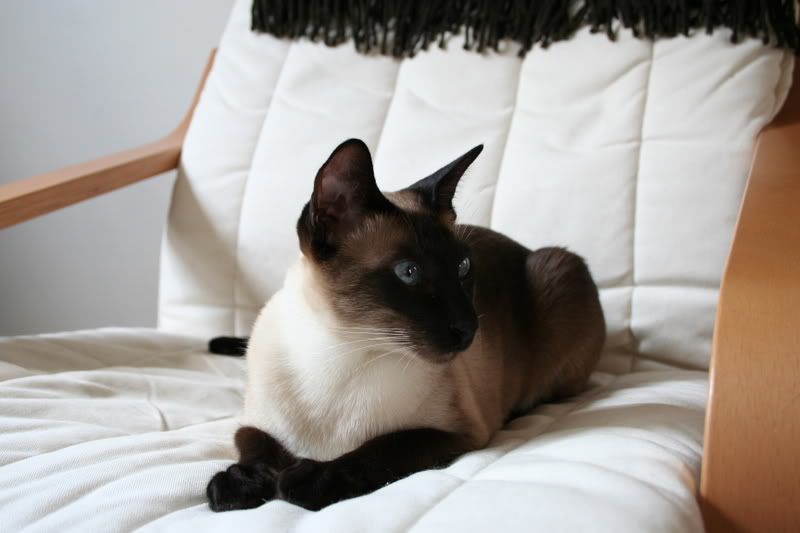 This is our first Meezer Monday here at Simply Siamese and we are tickled blue with excitement! Obviously I'm featuring myself today but I really really want to feature other meezers in the future! So please e-mail us at simplysiamese AT gmail DOT com with pictures you would like to have posted. Thanks!
Please post links to your posts for the day (they don't have to be about Meezer Monday, just anything you're posting about) and we'll keep a running list of what you're all up to for the day! Have a great start to the week and we're thrilled with the response we've had!
Latte (me)
is talking about Simply Siamese today. I'm posting a black and white picture where Meowmy made my eyes stay blue.
Kaze
is telling complete LIES about how she's a better hunter than me (Latte). Don't believe her. Oh, and Meowmy made an interesting picture featuring her blue eyes too. But she's not much of a Meezer Monday poster, she falls more into the Frootbat Friday camp.
Miles & Sammy
are having an interesting time with Photoshop but look very meezerly indeed.
Chairman Mao
is busy teaching his humans MAOese and being very manly helping his daddy on his work bench.
Casey
is showing her very unamused meezer face to the camera because she was stuck with a cat sitter over the weekend. She rightly avoided the woman and refused to eat or play. What a horrible weekend!
Cheysuli
Is showing off her gorgeous self (careful gents, she's my wife!)and talking about the nocturnal ongoings in her house.
Kimo
has a real treat in his triple threat Mancat Meezer Movie Monday. He's showing off the beautiful snuggle from DKM.
Skeezix
introduces us to Freda, a meezer from the Fude Lady's past. There is also a pony picture and some cool bangs!!
Tara & Kavan
feature the cute little meezer kitten today. He's doing a great job helping Tara blog and their mom told Tara she has to share her blog with Kavan. She's a good girl though and they've been making some great snuggling progress!
Sia
is showing how wonderful meezers can look even in black and white while waiting for an answer from Marley.
Cato
has a truly insightful post entitled "the Treasures Within". Cato says it is "For those who still hold the old practices close, this establishment -- the Hammam -- is a true delight."
Jimmy Joe
isn't a meezer but he's talking about the fabulous Lola on his blog today. Jimmy Joe is a new blogger so if you haven't met him, you should! He says that Lola made Ninja noises when he met her. Hehe....of course she did!
Stella
posted a beautiful picture of herself today, can you see she's glowing? Did you know she's going to have KITTENS? Its quite exciting!!
HRH Yao-lin
is busy yelling at his human slaves who actually served him lamb chops without gravy!
Baby Mao
is basking in the glorious sunlight and looking very grown up while dreaming of Kaia.
Junior
was very busy keeping an intruder away from his porch. He even climbed the screen door!! What a brave meezer he was!

Crazy Meezer
has a great cartoon posted about blogging cats!