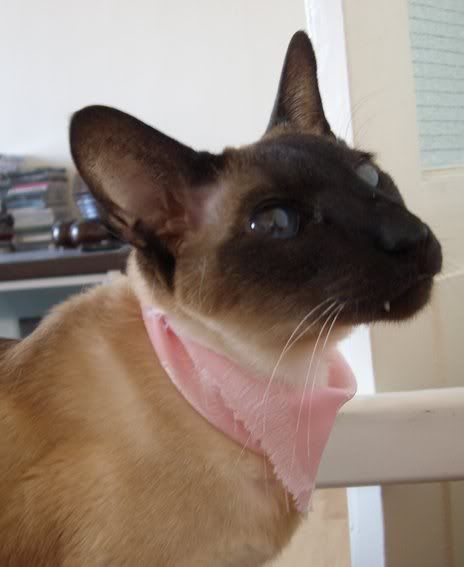 Today we celebrate
Storm
. She is such an amazing cat! She lives in the UK with her brother Castle and her Mewomy. Storm is a seal point who is fighing cancer. She keeps a chronicle of her her treatments and how she's feeling. She's quite a meezer to look up to! Plus her Meowmy will give her pretty much anything she wants to eat!!!
What are all of the rest of the meezers up to?
Casey
is looking pretty for her humans new camera yet still scolding them for not serving her needs properly these past few weeks.
Chairman Mao
is doing the Man Cat look and he's very effective!
Sammy
is showing off his really cool new Gizzy Quilt! Gizzy quilts are amazing and his matches him perfectly.
Latte
had a fabulous birthday weekend and has filled out a Meme from the lovely Storm.
Cato
aspires to be as great as Alexander!
Tara
and Kavan had a busy weekend with visitors but as usual, Kavan got them into trouble. Kavan's having his hoo-ha's removed this week!
Kimo
shows his daddy just what a meezer can do!
Yao-lin
is scolding his humans for making him wear the hat that Latte sent him to torture Baby Mao.
Baby Mao
has a video of him playing fetch! (Well...sort of at least)
Toby
is thinking meezer thoughts in the sun.
*****New Meezer Alert*****
Tamra
is a cute little meezer kitten who is blogging! Thanks to Kimo for introducing her to us. She's just learning what a meezer is.