This is the very beautiful and fashion forward
Tara Princess Meezer
. She lives with her little brother Kavan and gets to Out of Doors on walks a lot. She's a sweet applehead seal point who loves the color purple. Today she and her brother Kavan are busy defending their yard from
strangers
behind the fence!
~Latte, your host for Meezer Monday

I
had some nice porch time while his football team actually won!
Stella
is showing off one of her beautiful babies on Mommy Meezer Monday.
Casey
is being introspective and beautiful!
Cheysuli
is getting ready for the presidential debates this weekend being hosted by Skeezix! This is important and we should all take part since we have multiple meezer candidates.
Chairman Mao
is looking really cute. No seriously, I warn you know your humans will say Awwww!
Junior
is greeting the cooler fall air.
Um
Sammy
? I don't know about the 'begetable thing. I mean, first of all their begitables and secondly I've never heard of that kind. I guess I get the dirt though.
Tobby
is busy looking like a stuffed animal. I think I have to worry....Meowmy is really in love with snow shoes!
Storm
has an award and does the Scatergories meme.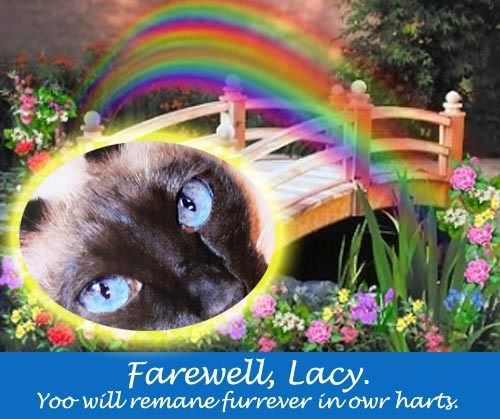 Thanks Skeezix for this beautiful picture. Lacy was a special friend of the cat blogsphere and while she didn't have her own blog, she really enjoyed many of ours. We will miss you.