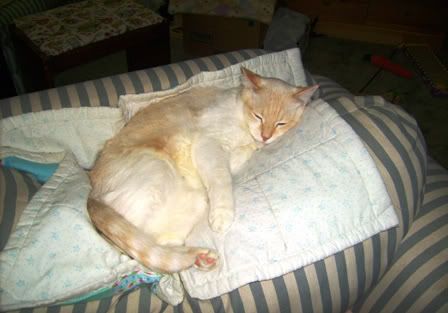 This week we're featuring one of our Flame Point members,
Junior
. Junior was rescued from Rocky Mountain Siamese rescue and he lives a great life with his Meowm as an only cat. Don't you think his fur is really beautiful? And his pink paw pads? Junior is a GREAT friend to have so if you've never met him, please go and introduce yourself!
Today
Junior
is telling a tale of how he got a little overexcited playing with his Meowm and hurted her.
Crazy Meezers
are having a fun meezer contest!!! They want to see lolmeezers so they're going to give a prize to the best one. You can use their pictures, your own, or any other meezer (or Oriental). (In light of this COOL contest Latte & Kaze offer up any of their pictures too if you want to use them).
Casey
is looking lovely and celebrating Canada Day (which was yesterday 7/1).
Latte
is playing with photo filters and getting ready for his pet pageant on Wednesday.
Chairman Mao
is looking at life through his sister's point of view and sitting on top of the JVC. He also wrote a lovely poem for his girlfriend cat.
Cheysuli
is wearing her kimono and talking about Sicko and the issues it raised surround health care (as her mom is a health care professional).
Iris
is one year old!
Kimo
is tired from practicing his strolling outside!
Mao
is practicing his Playcat pose. His birthday is Wednesday remember ;).
Kaze
got new litterboxes as her Gotcha Day present. She doesn't seem too thrilled.
Stella
is showing off her big belly for Mommy Meezer Monday!
Sammy
is looking tired after he and Miles visited with their Daddy and the foo-ton.
Skeezix
is hiding from Vishus Deer who walked right into his front yard!'
Tara
and Kavan went up to their Mountain House but Tara had a little accident in the PTU on the way up.
The Big Piney Woods
are featuring the meezer twins today and they still can't tell them apart (we don't blame you!)
Yao-lin
went to a party to remember Princess Diana 10 years after her death.