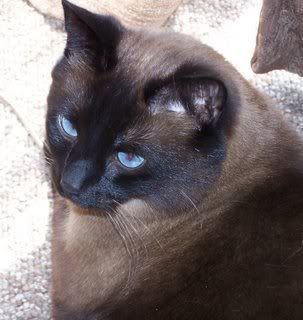 Most of you know Sammy Meezer, one of our fabulous Simply Siamese members and everyone's host for Meezer Rule Wednesday. Sammy has decided he would like to work with tractors! His mom went to a tractor pull and he posted some crazy pictures.
Casey
is attempting the Full Monty but hasn't figured it out yet.
Cheysuli
models the necklace her Woman will be wearing in her wedding this weekend.
Toby
is showing off some gorgeous meezer eyes!
Chairman Mao
is giving off a Real Kool Mancat pose.
Napoleon
(OK, how cute is he??!!) shows off his artsy side in black and white.
Latte
is convinced there is a secret stash of Temptations under the street that his Meowmy won't let him have.
Kimo
found a coffee named after him!
Stella
is on day 63 so that means any day now she'll have her kittens!!!!!!!!
Sia
says they're going to be fostering a mama kitty with 3 kittens.
Kavan
is still sneezy. We call that a Sneezer in our house (instead of meezer). Lets all purr that he feels better soon!
Leave us your linkies we'll put together a synopsis.