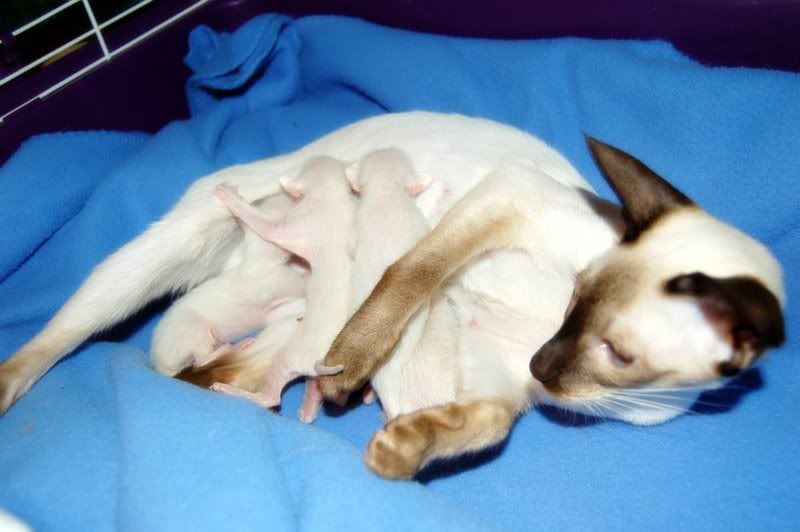 What a perfect way to celebrate our new Mommy Meezer
Stella!!
Stella just had 4 little babies and this was her first litter ever. The daddy was Peter Pan who came to visit them about two months ago. How cool that there are now 4 new little meezers for us to get to know and love? Stella is only one of the meezers at the Meezer Gang's blog. There is also new little Celeste, Kaia (who looks exactly like Kaze!), and Nicky. Oh Nick....we can only hope Stella had 4 boys!
Leave your linkies!!
Toby
is sneaking around places he isn't supposed to be.

Chairman Mao
clarifies that he doesn't drink water from the human littler box.
Kimo
is trapped in his house! Some strange men came and now they're trapped.
Latte
is trying out a new quilt that was put in HIS room.
Sammy
is looking like quite the Meezer Man Cat without even saying anything.
Yao-lin
&
Baby Mao
will be offline for a few days while they move. Come back soon guys!
Junior
had a nice relaxing weekend with his Meowm and she brought out the winter comforter.
Tara
got a package for winning Latte's contest. Of course Kavan had to be involved.
Casey
is acting as a lookout partially because all of the good spots are taken.
Cheysuli
survived the wedding while tormenting the woofies who stayed with her. She also did receive proper pets from the visitors.