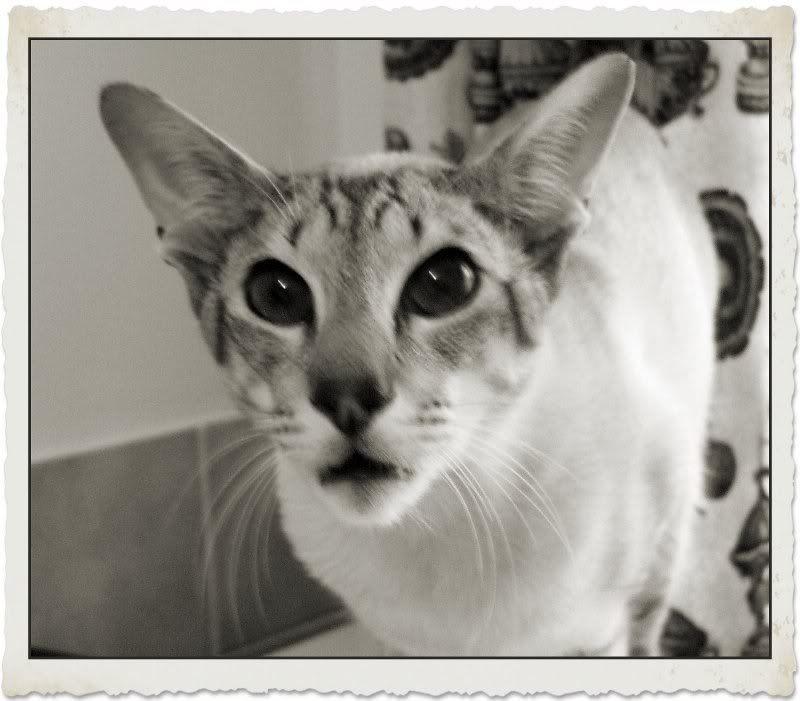 Rabit-rabit my friends! That is something that my Meowmy learned as a child, if you say rabit-rabit first thing on the first day of the month you will have a good month. Rabits sound tasty to me!!
This is
Baby Mao
. He is a Tabby Point Meezer who lives in the Yoo-kay with his brother, HRH Yao-lin. Baby Mao stinks a bit of poo but that's OK because he's really cute. In this country he would be called a seal lynx point (like Kaze) but in the Yoo-kay things make more sense and he's just meezer. Baby Mao is a sweet little guy who recently turned one year old.
Sammy
is giving his mom laser eyes for calling him names.
Cheysuli
has a debate wrap up. Be sure to check out the debates at Skeezix's blog as we have two meezers in the running, Chey and Cato.
Latte's
roofers are back this morning. Please come give me a snuggle because they're terrifying and loud and above the cat room today!
Kavan
took over to play with a fun toy and the kitchen chairs.
Kimo
is blue missing his dad who's been away.
Chairman Mao
is asking for some purrs for the lovely Brainball (who appears to be doing much better!!)
Tobby
is showing off an adorable kitten picture of himself!!
Tamra
has a movie of herself attacking.
Yao-lin's
slave ordered a statue to his liking! Quite exquisite.