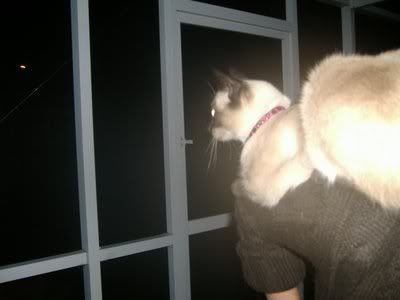 Sia
from Katnippia is our featured Meezer on this Meezer Monday. She's a sweet little meezer who lives with the rest of the Katnippia crowd in Florida. They all really love their screened in porch.
Cheysuli
is not pleased about being left alone for 10 days at the end of the week.
Chairman Mao
tried his paw at a poem for his sweetie.
Toby
has Temptations on Meezer Monday!! I think we all need to swarm him. Well...maybe just me 'cause I love them soooo much.
Zed Monster
is practicing levitation! It is amazing, you have to see it!!
Yao-lin
gives us yet another reason its good to be a meezer- we don't have mullets! He dedicates this mullet-monday to the missing
Anestasia
.
Baby Mao
is visiting with relatives in their laps. He's a nice friendly little fellow.
Latte
is playing with squiggles which are just amazing amounts of fun!
Sammy
is showing the proper camera strap attacking technique.
Mini Meezers
are getting really colorful! And really cute of course.
Cato
says,
"On a hot night in Calistoga, you can find Cato at the Blue Milonga dancing the tango with his usual partner Nelle."
Junior
is playing with his mom and purring that she'll find a better job that pays better. Also his uncle is looking for a new jobbie too.
Kaze
is meezeless on Monday. That's right her voice was completely gone! Luckily this morning she's on the mend and meezing louder. *UPDATE* Go check out her meeze video, then you can hear what we put up with!!
Mao
is trying on Rocky's fur. Wow!!
Napoleon
is still tiny and cute but bigger than when he first arrived home.
Castle
takes over at Storm's blog and introduces himself.
Tara's
mom brought her back some tasty salmon from her travels and Tara's dad sung her happy birthday on her birthday- so sweet!
Leave us some linkies!